FREE SHIPPING IN THE USA ON ORDERS OVER $150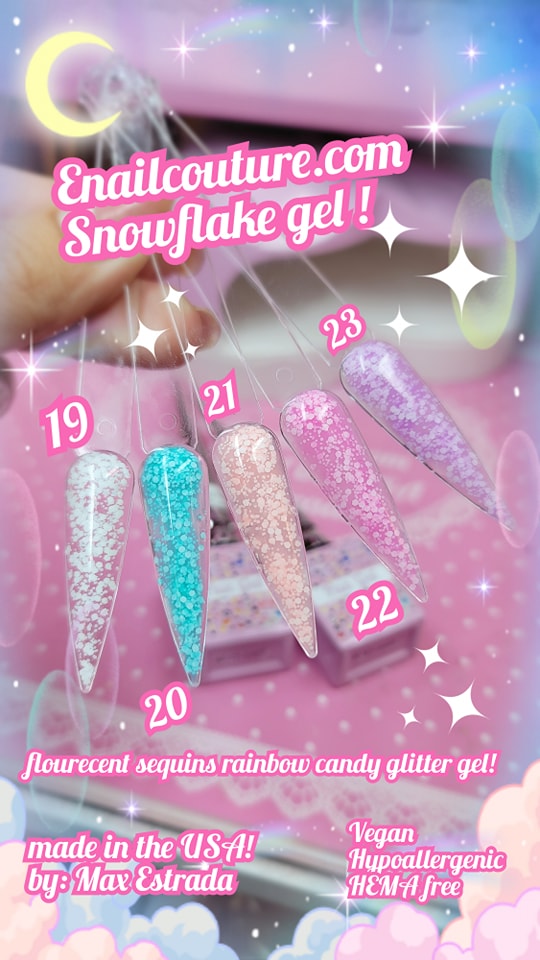 Snowflake gel ! Fun gel (Jelly Gel Nail Polish Set Clear Glitter Pink Blue Gel Nail Polish Kit with Iridescent, Crystal Transparent Gel Nail Polish Soak Off Gel)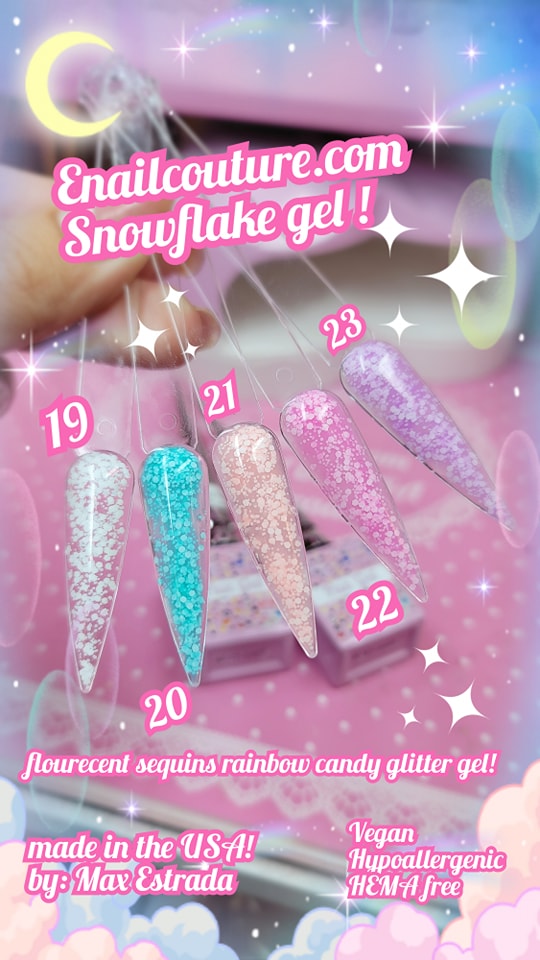 Snowflake gel ! Fun gel (Jelly Gel Nail Polish Set Clear Glitter Pink Blue Gel Nail Polish Kit with Iridescent, Crystal Transparent Gel Nail Polish Soak Off Gel)
About this item:
Glitter Nail Polish Gel new snowflake! Enailcouture.com snowflake glitter gel delivers a high-gloss finish and also a plumping effect to give your nails a shining look, popular and trendy colors suitable for seasons and daily life

Special snowflake Glitter nail designs could be freely finished with these vibrant color gel

Long-lasting: With proper application, this snowflake gel color nail polish can last for 21+ days. Each of the gel colors is highly pigmented and is easily applied onto your nails perfect for professional salon or at home personal use

High Quality Enailcouture.com Gel Polish : The snowflake gel polish set is made from natural resin, healthy ingredients, low smell. No Chips or Smudges, not peeling off easily. High-gloss wear and mirror shine finish

Soak-off Nail Polish Gel: This glitter pink yellow blue nail polish gel kit needs to be cured under LED light. Average for LED light 60-120 secs. Tip: Acrylic nail kit match nail tips, accessories would be more beautiful
Features:
Turn gel polish or precious minerals into a work of art! no skill needed every bottle is full of magical art
Creating marble, abstract and cracked nail looks fast and easy 
can be used alone or over any color 
No artistic skills needed soakable
seal with shinee or wonder gel 
Fast Application
Apply it just like polish in a even coat to get a luxurious textured look, almost like ocean waves dancing on the nail
apply it very thin and in uneven strokes and see it magically
cure for 60 seconds in led or uv lamp 
seal with shinee or wonder gel 
Long-Lasting
The gel polish stays on nails for up to 3 weeks with no chipping or peeling, and     soaks completely off in only 10 minutes.
Even with such a natural look, these gel polishes are long lasting and remain shiny between treatments.
User-Friendly
It is packaged in an easy to use bottle instead of a jar, with easy to spot color on the cap; the color is true to the bottle because the cap is hand filled with the same gel.
Stable viscosity until the last application.
Luxuries Colors
No unevenness on coloration, brilliant luxury color, for a beautiful finish.
Separation of ingredients does not occur, churning or mixing is unnecessary and there is no wasted gel.