FREE SHIPPING IN THE USA ON ORDERS OVER $150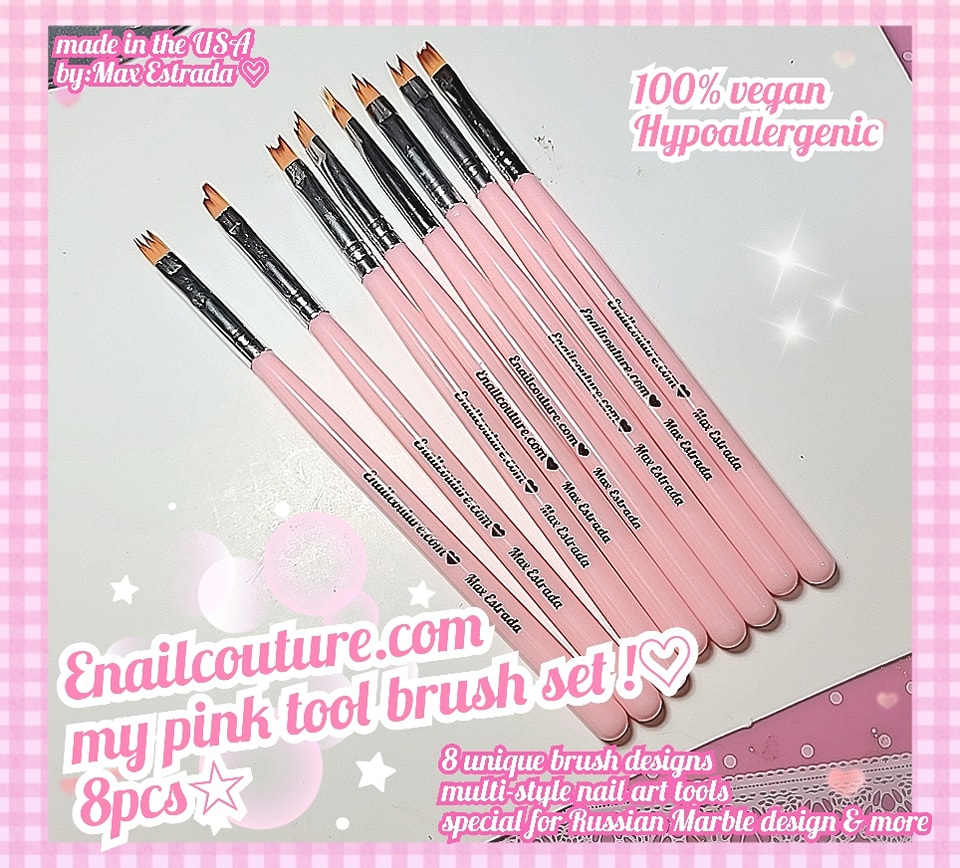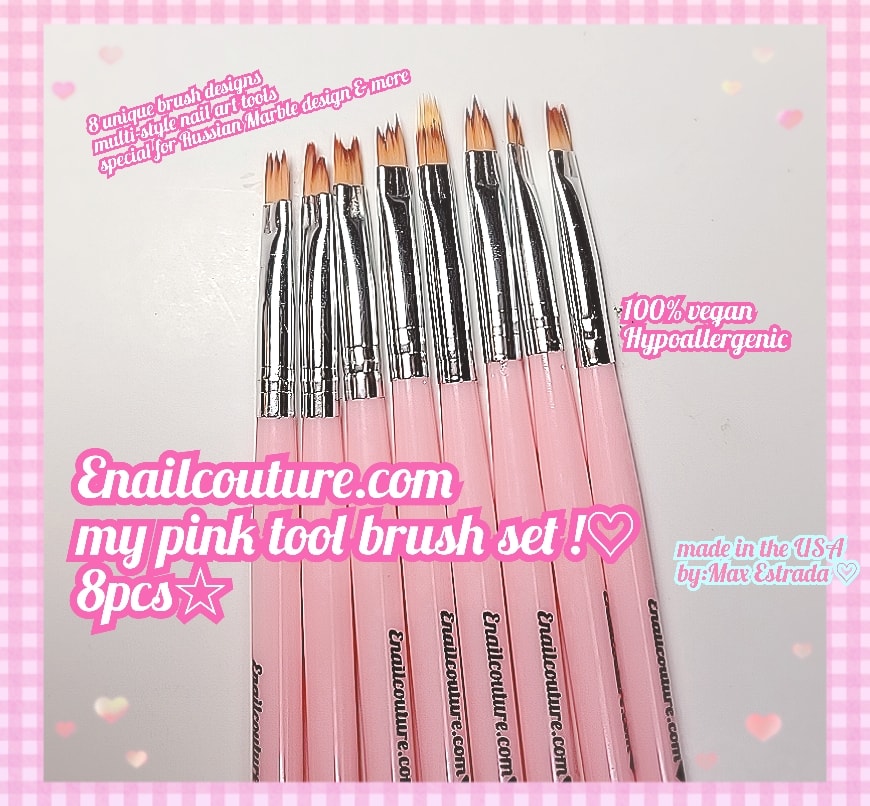 My Pink Tool nail art brush set (8Pcs 3D Nail Art Brush, Gradient Acrylic Painting Brush Set Poly Kit Gel DIY Flower Drawing Pen Pink Handle Manicure Nail Art Polish Brush Tool)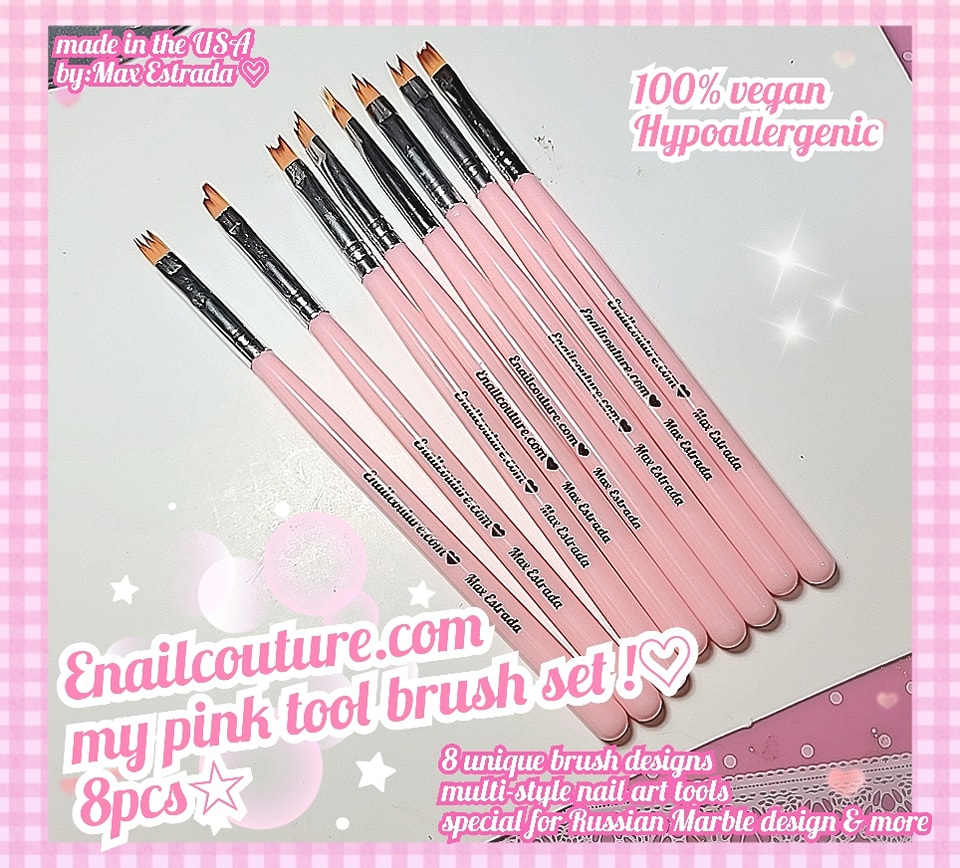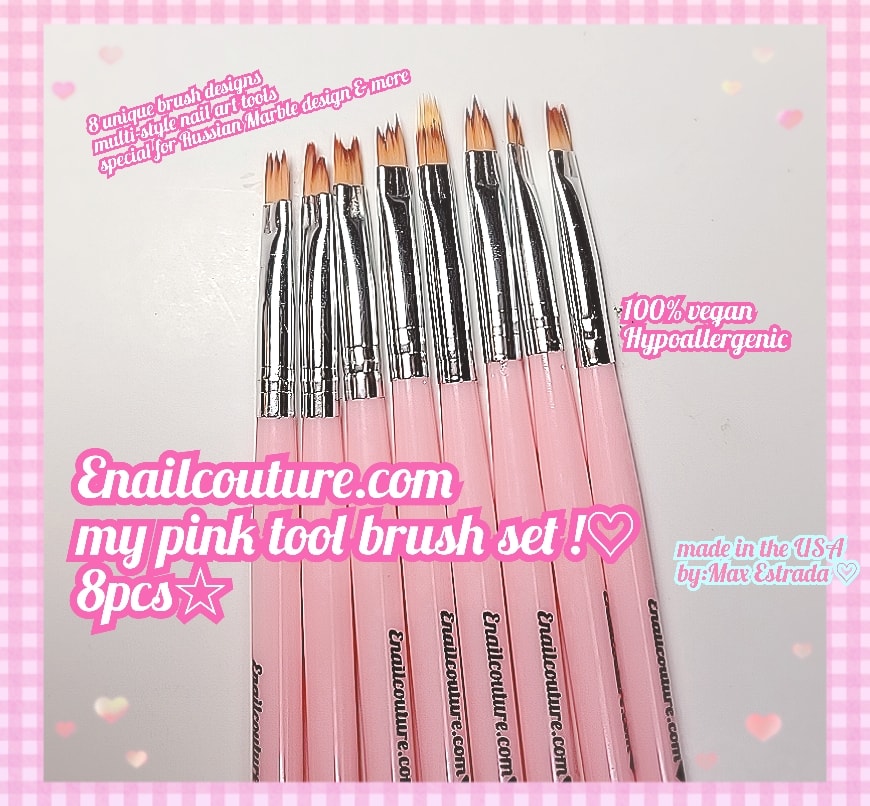 My Pink Tool nail art brush set (8Pcs 3D Nail Art Brush, Gradient Acrylic Painting Brush Set Poly Kit Gel DIY Flower Drawing Pen Pink Handle Manicure Nail Art Polish Brush Tool)
Enailcouture.com new My pink tool nail art brush set 8pcs
Do you want to flaunt gorgeous nails but don't have any art skills? No problem ! Get the my pink tool Nail Art Brush set!

No Skills Needed! – Create eye-catching nail art just by simply painting with these brushes over your nails and done!

The brush is made of nylon wool, which is not easy to fall off or fall off. Non-slip grip, precise! The handle is also ergonomic and can be used comfortably for a long time. This set of nail brushes will bring you a good experience!

Multi-Style Nail Art Tool. Perfect for creating Russian marble, checkered, waves, bowknot, fishtail, striped patterns, Abstract

and many more!

Including 8 brushes. Try to use these brushes to achieve different petal designs and effects. Suitable for false nails, acrylic nails and natural nails. Suitable for nail experts, nail beginners, nail salons.
Selected high-quality brush hair
These bristles have excellent strength, and the brush has excellent flexibility to make the nails have the ability to shape, can smoothly push the nail polish, and quickly shape. 100% Vegan
Features:

Brand new and high quality.

material: plastic

Approximate size: 15.5 cm

Packaging includes: 8pcs

Tips: Please note that due to lighting effects, display brightness/contrast settings, etc., the color tone of the website photos and actual items may be slightly different.

The items measured by hand may differ by 1 cm, your understanding will be greatly appreciated.

Very suitable for professional use and personal use!

Creating beautiful nail for longlasting flower pattern!

Easy to handle and operate

01# Bilateral flower pen: You can draw dragonflies, swallowtail butterflies, lace, silk scarves etc.styles.
02# Mountain peak Flower Pen: Long petals, waves, textures, flower hearts, etc.styles.
03# Three-sided flower pen: petals, butterflies, skirts, European patterns, lace, short sleeves, etc.styles.
04# Swallowtail flower pen: sunflowers, labels, petals, streamers, fish tails, etc.styles.
05# Crescent Flower Pen: cherry blossom, windmill, bowknot, etc. styles.
06# stamen's shading pen: petals, flower edges, skirts, waves, sweaters, streamers, sweaters, etc.styles.
07# Sawtooth comb brush: lace, gradient, texture, line, etc.styles.
08# Stamen's shading pen: flower core, gradient, embellishment, firework, ripple, scratched flower, etc.