!FREE SHIPPING IN THE USA ON ORDERS OVER $99 & INTERNATIONAL ON ORDERS OVER $200!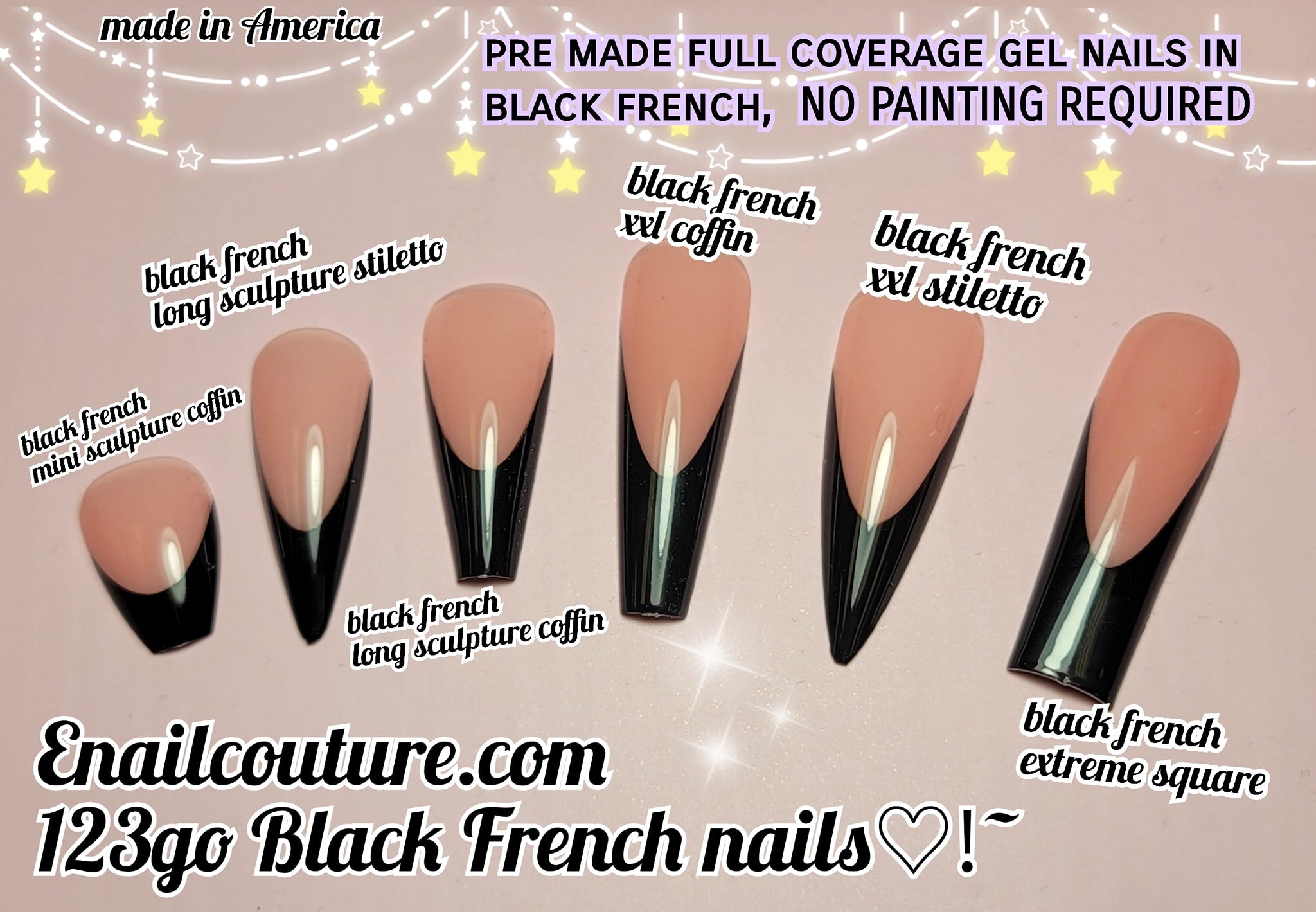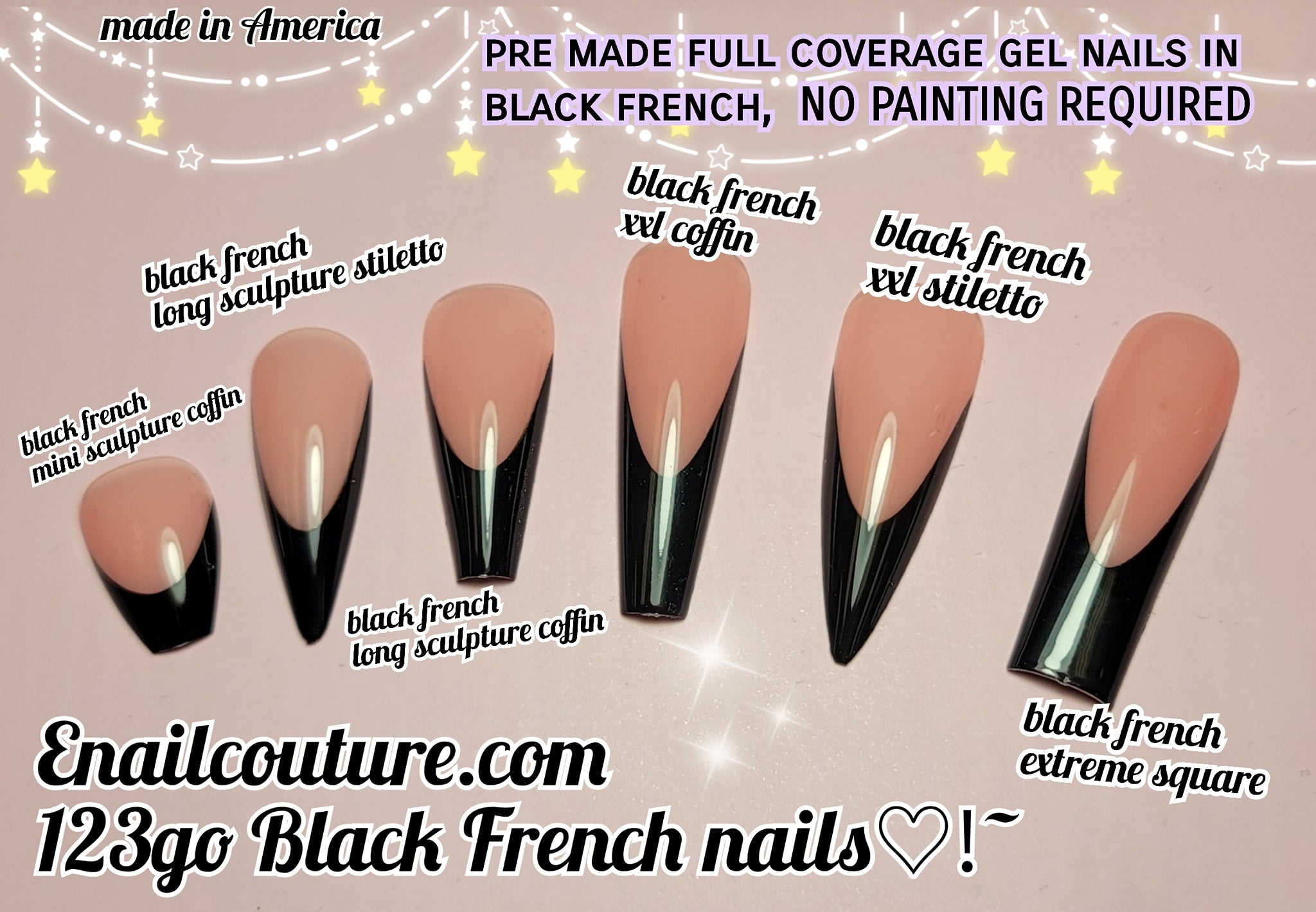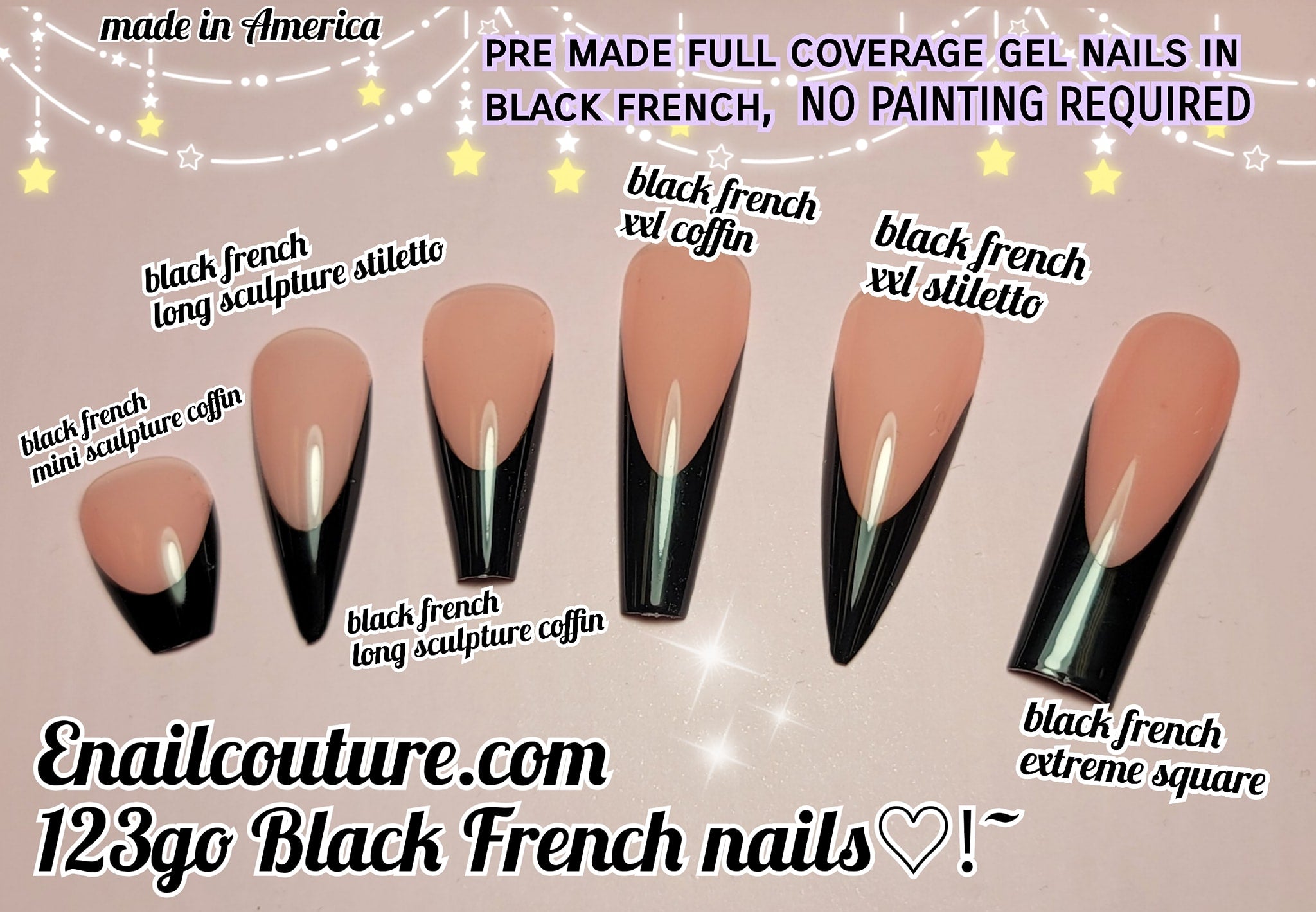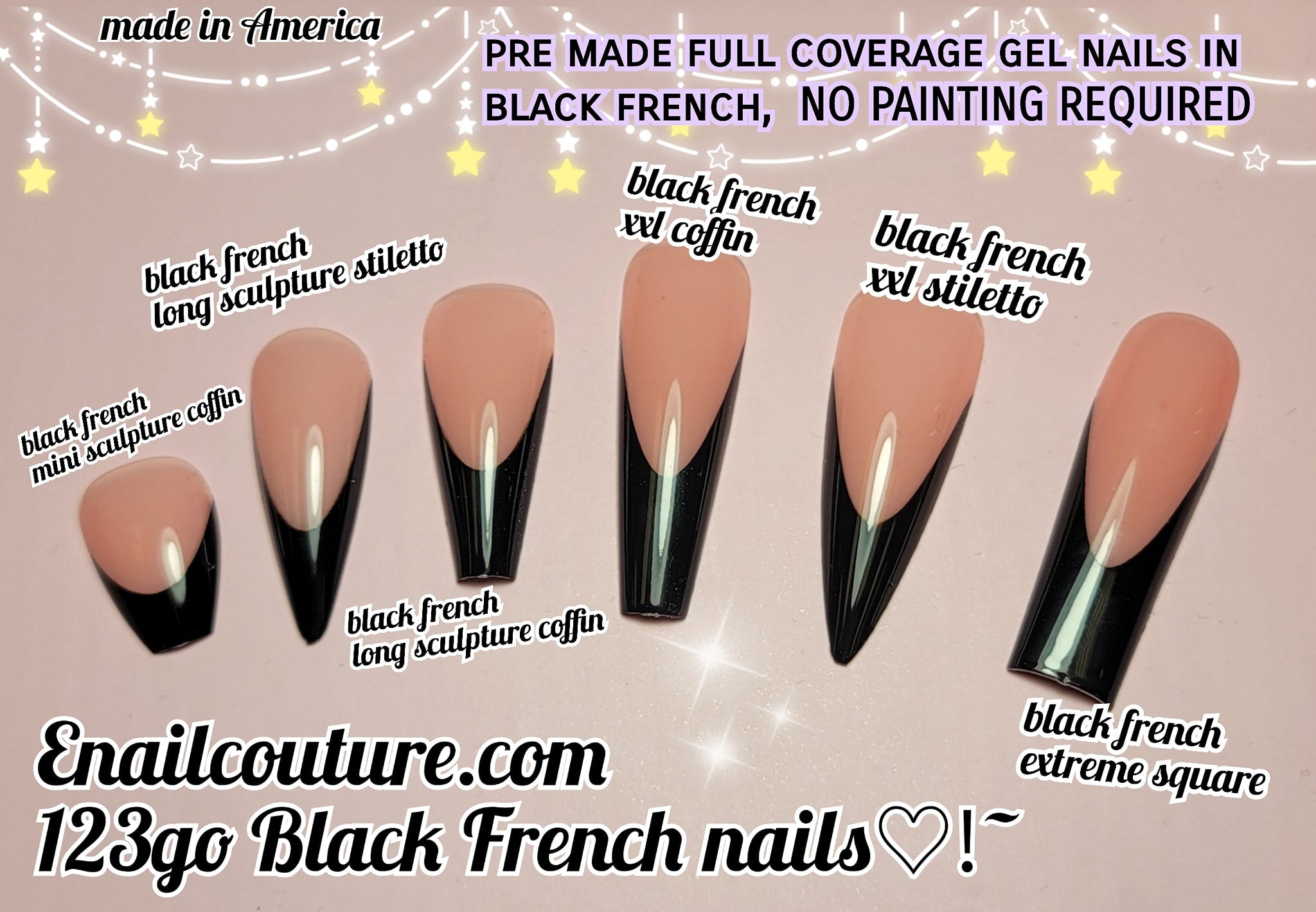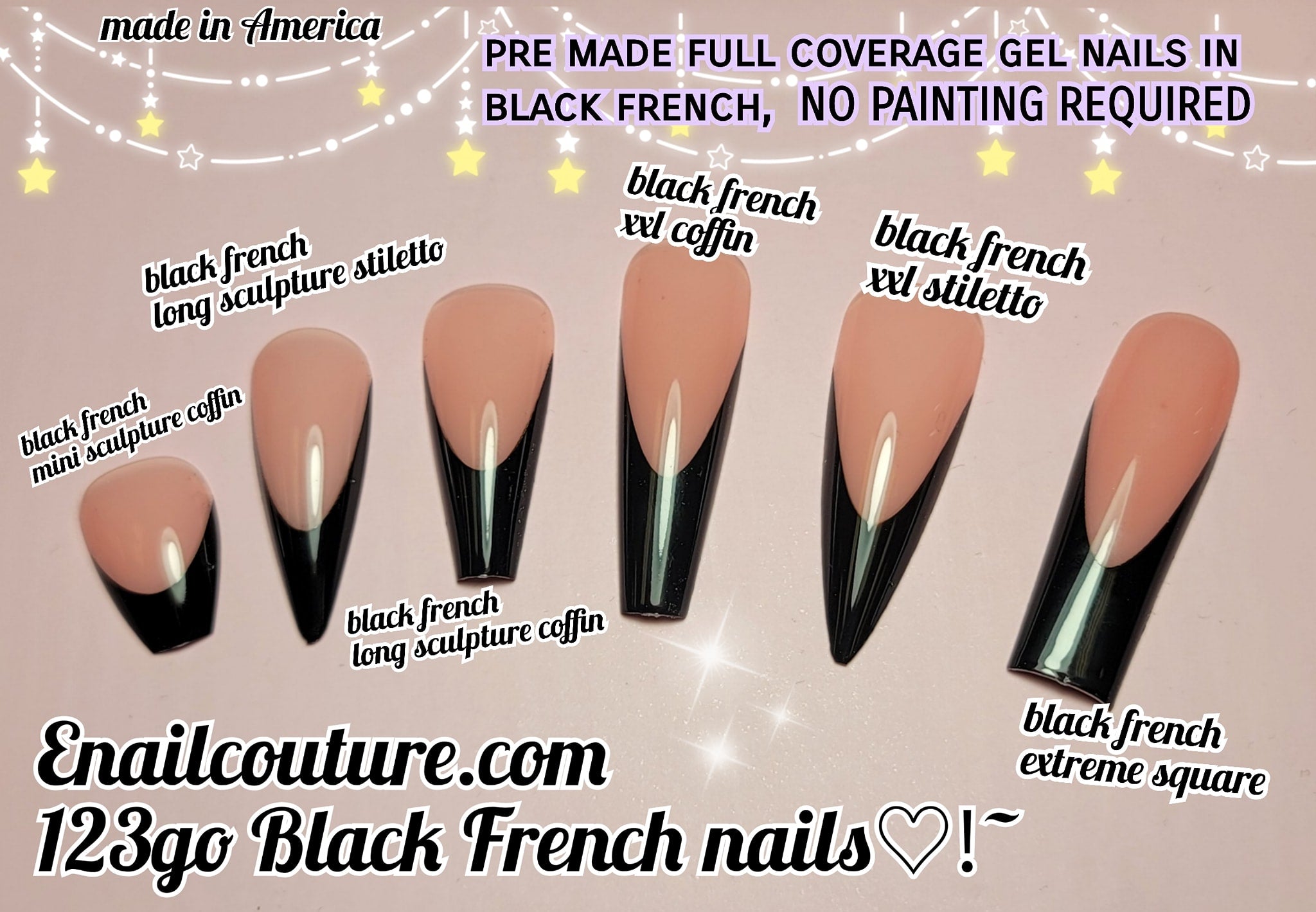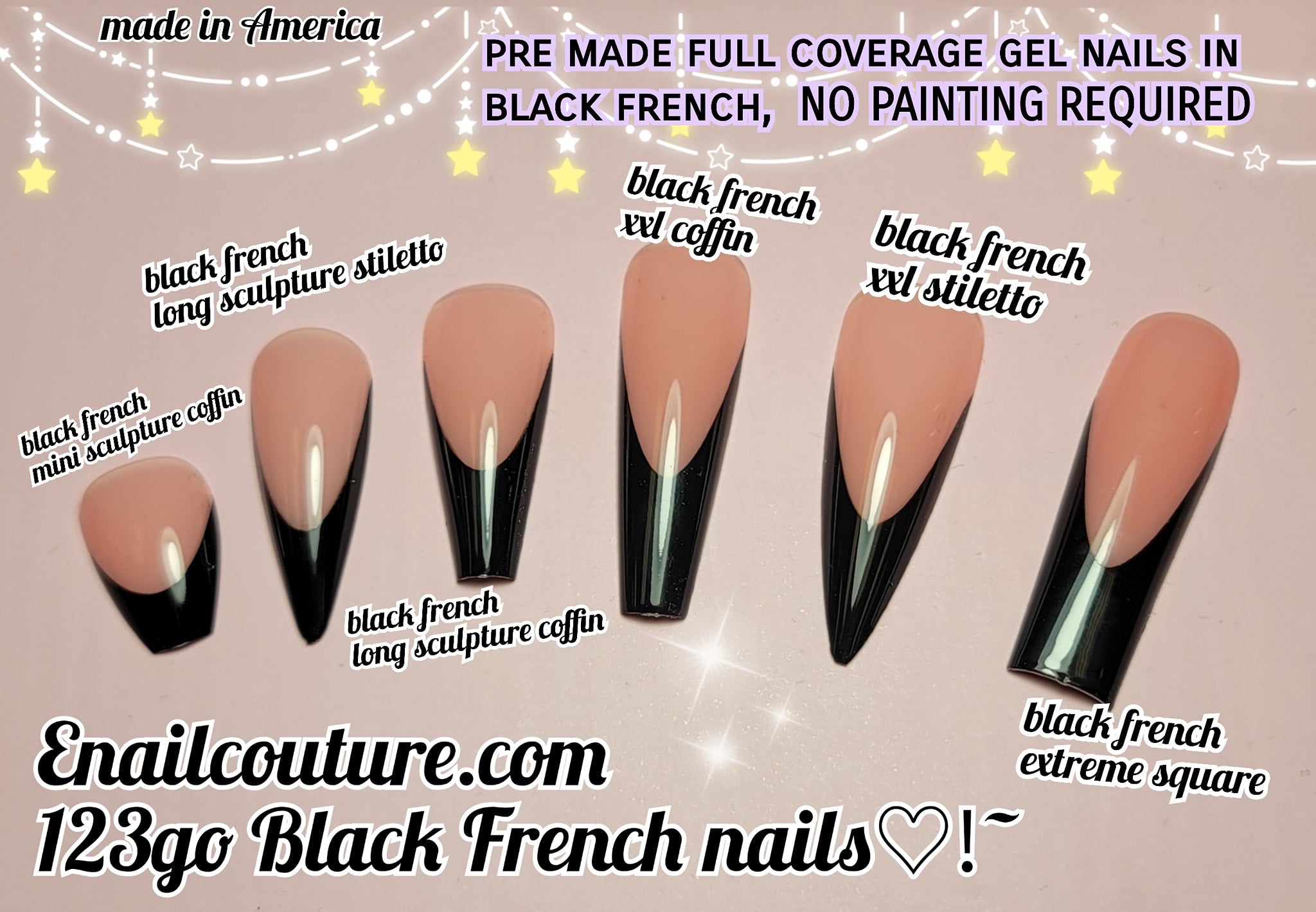 Black French 123 Go! Nails (pre made full coverage gel nail tips) (Full Cover False Nail Artificial Gel Nails Tip, False Nails)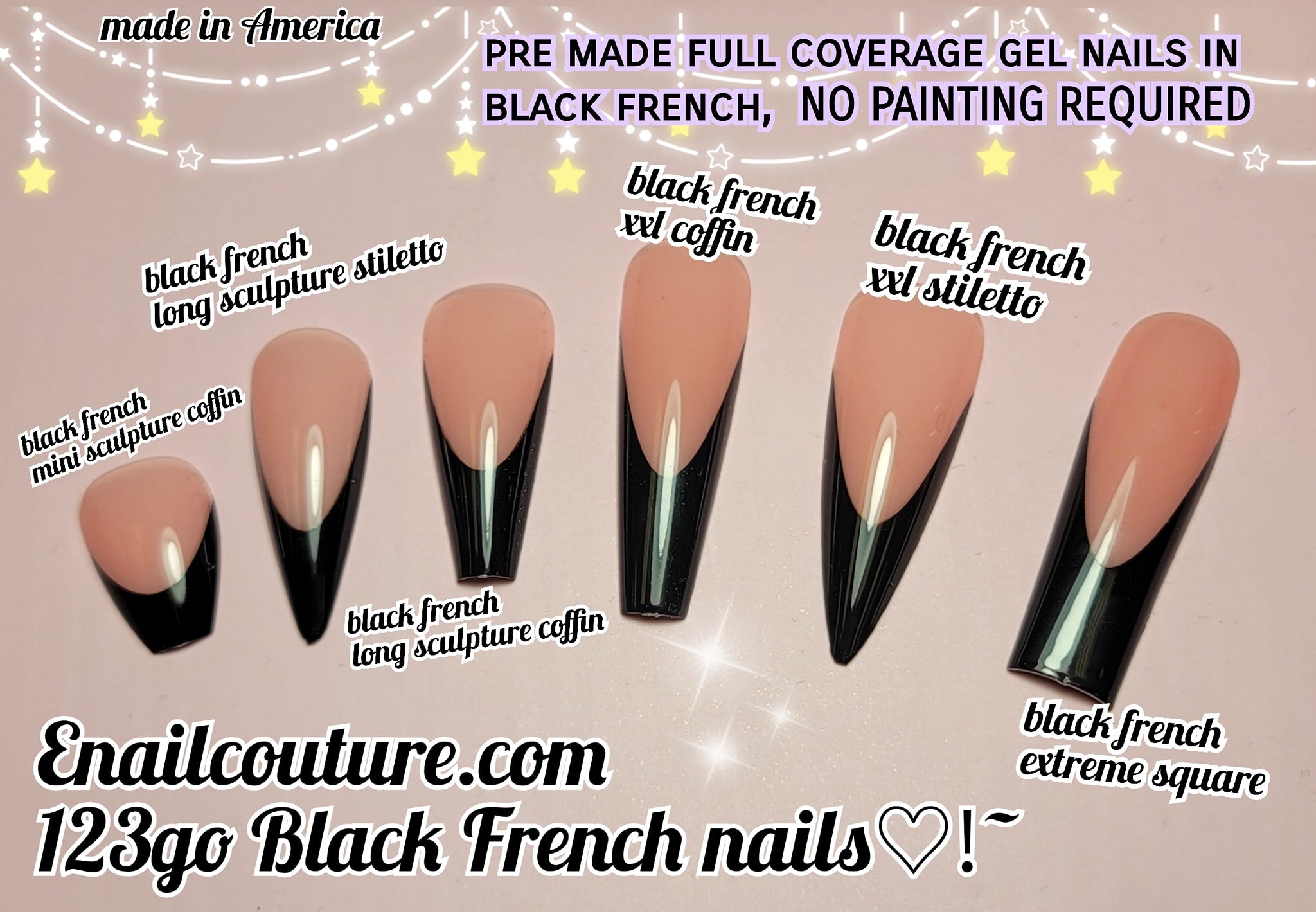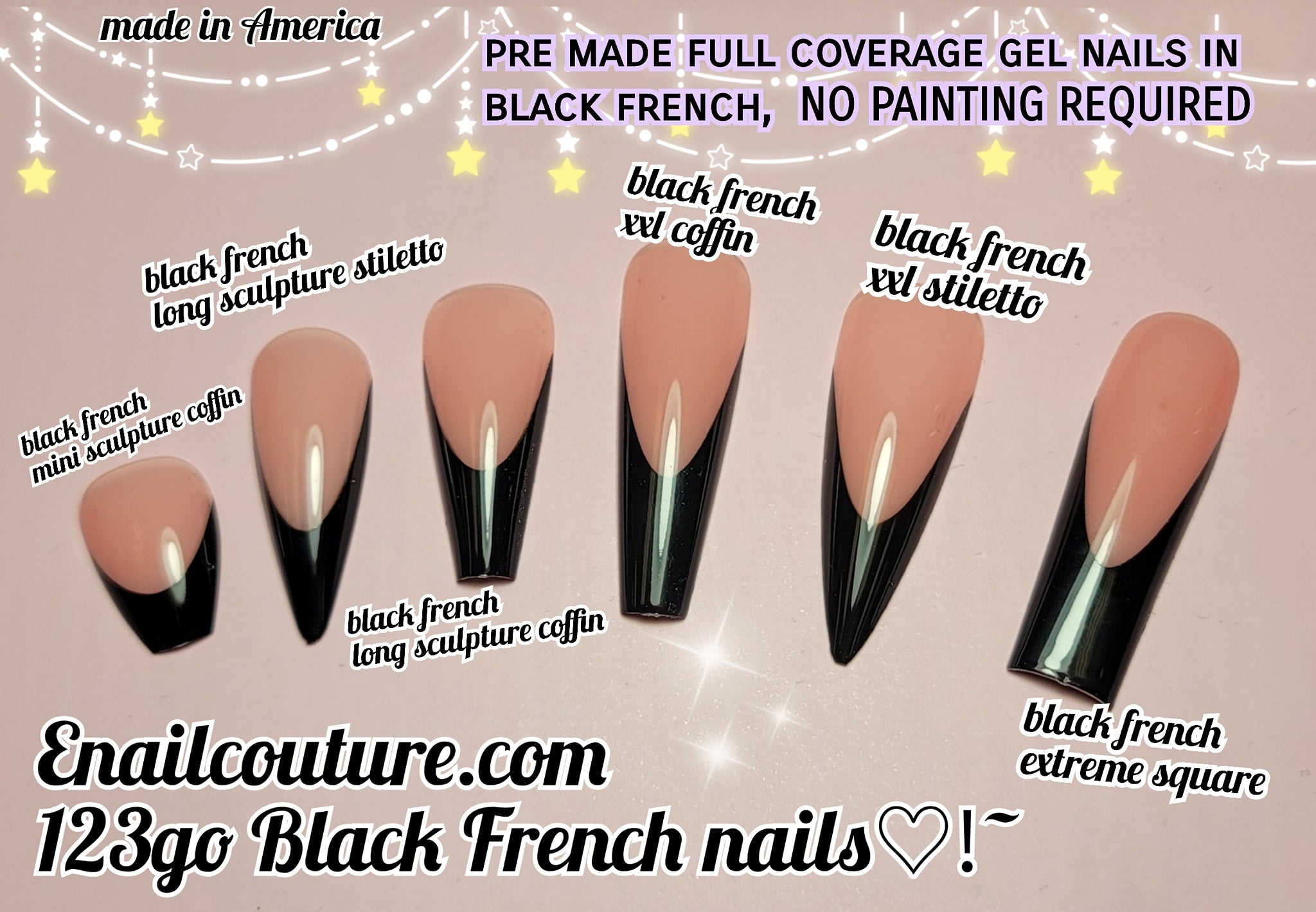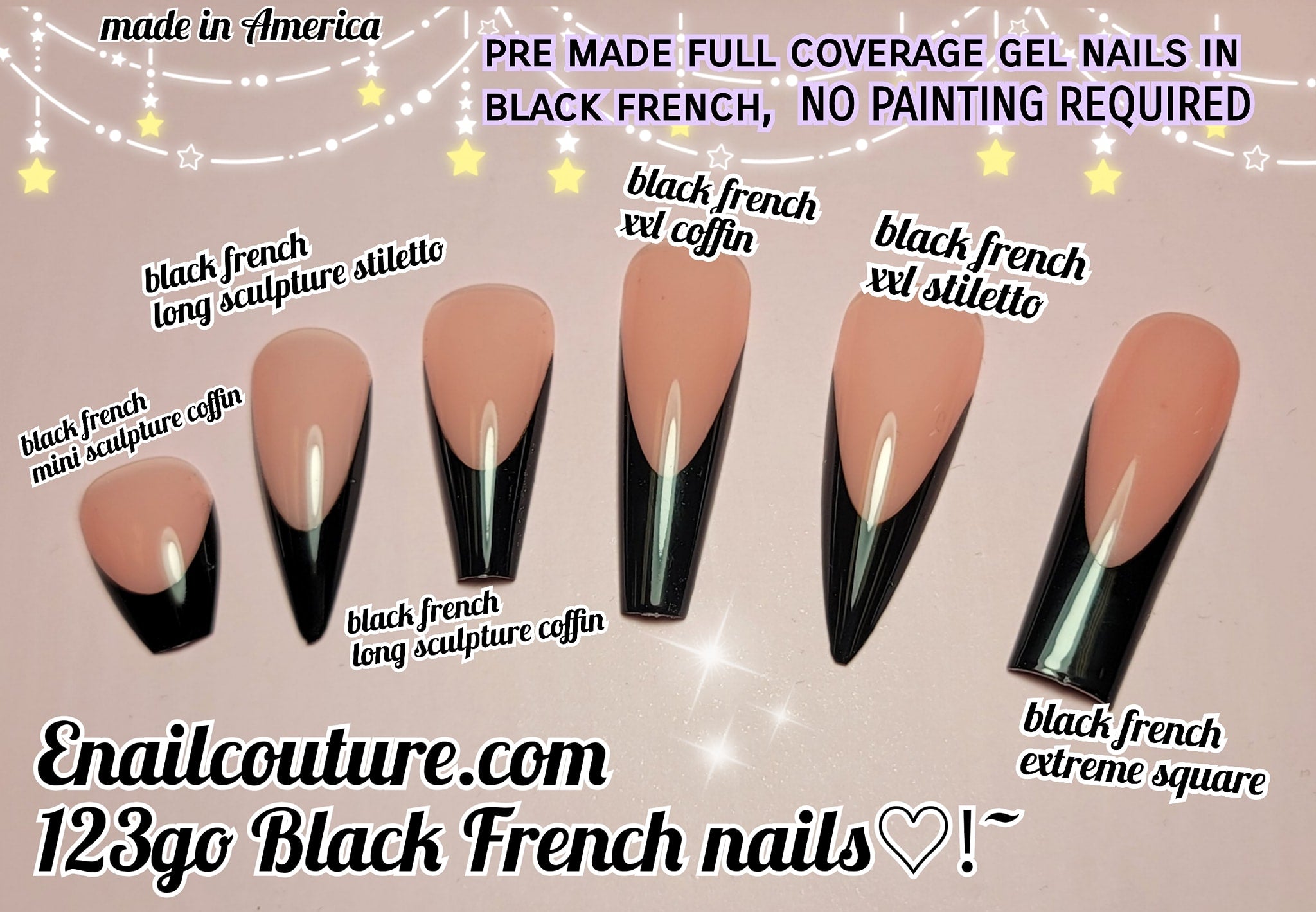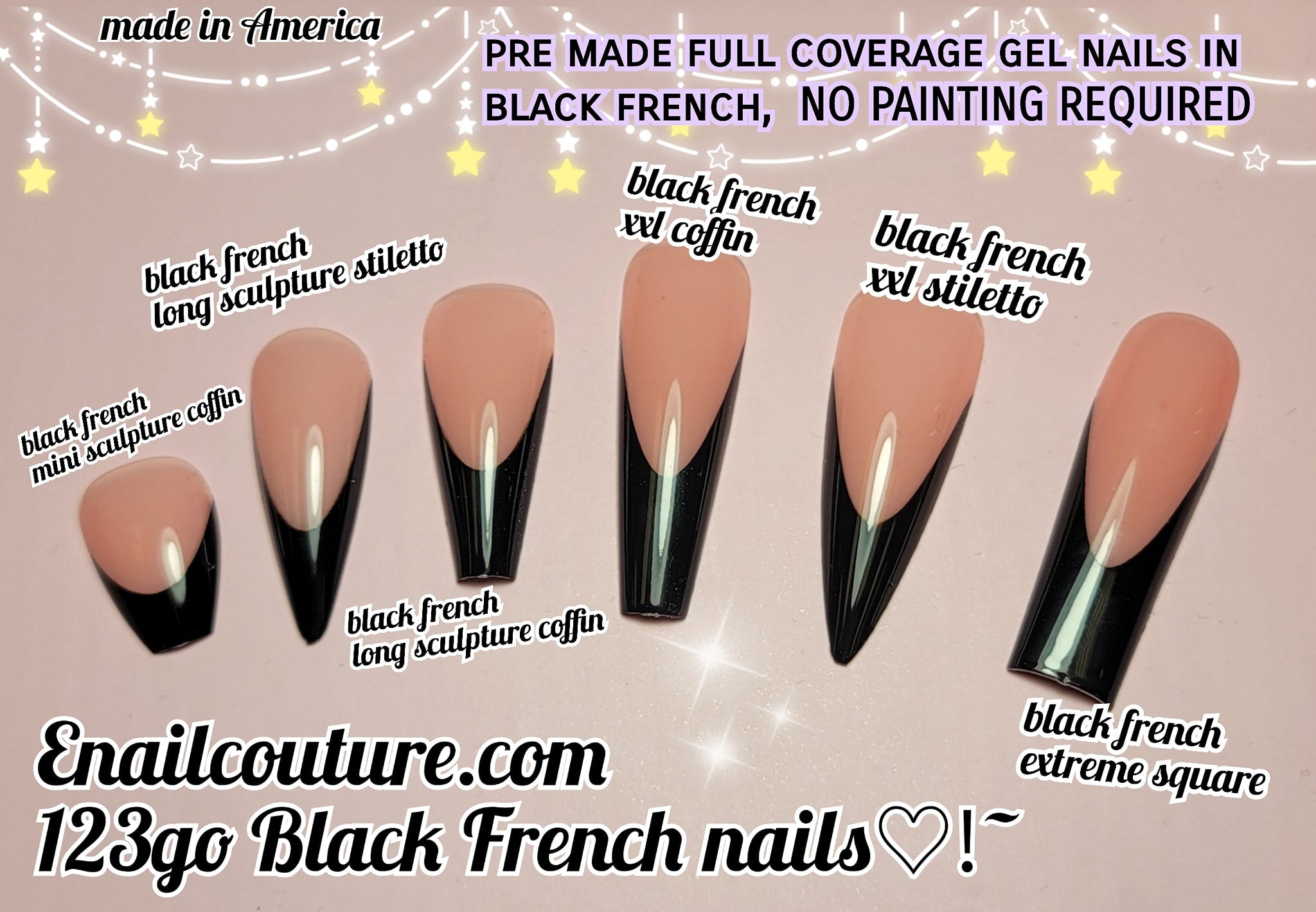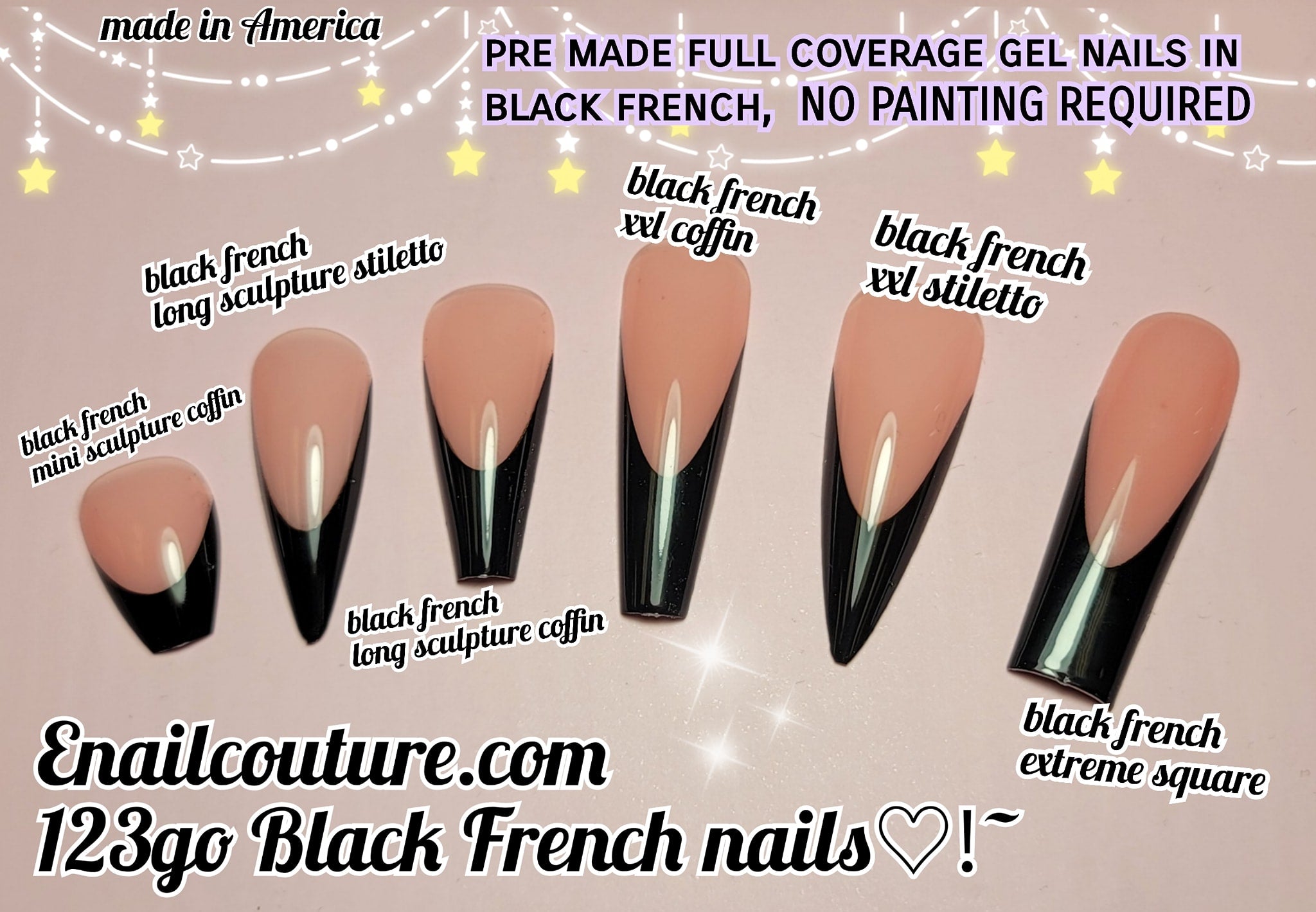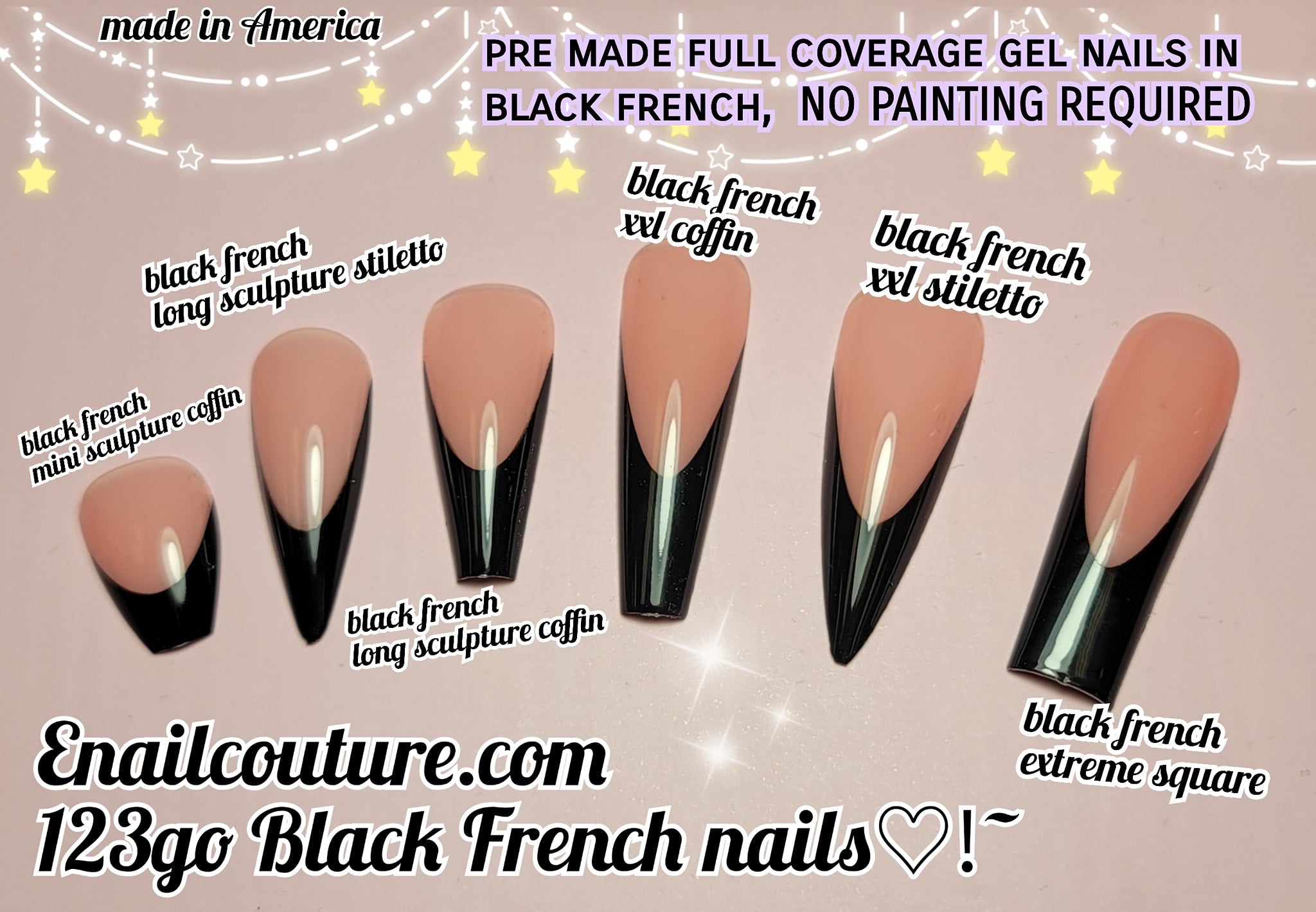 Black French 123 Go! Nails (pre made full coverage gel nail tips) (Full Cover False Nail Artificial Gel Nails Tip, False Nails)
The wait is over!  The much-anticipated Black French 123go is now available 
Please remember that the Black french 123go are a limited edition collection item!~
The Hottest trending full cover gel nails are now available !



MADE OF HIGH QUALITY MATERIAL: Our pre made Soft Gel shaped nails are made from high quality Soak Off Soft Gel material to provide you with a comfortable , flexible and lightweight nail enhancement, without the damage.
in 2021 we are working on making all our nails pre etched ~! (they will appear to have a matte satin finish on the inside of nail, this is to cut out the nail tip prep step and save time. the nails are ready to use out of the bag!)
Clear, colors  french, ombre, glitter and Various length Options from to suit every need.
CHOOSE FROM THE VARIETY OF SIZES:  they come different sizes. Our nails can be customized and resized by cutting or filling down the nails to your preferred length.

WIDELY APPLICABLE: These coffin full cover nail tips are great for professional nail technician on Nail Salon and nail art lover at Home DIY. Perfect for various occasions like wedding, party, function, or for casual use.

EASY TO USE: 123go nail tips are easy to apply for both professional nail specialist and beginners.
Available in various shapes.
Black French Extreme Square
Black French XXL Coffin
Black French XXL Stiletto 
Black French Long Sculpture Coffin
Black French Long Sculpture Stiletto 
Black French Mini Sculpture Coffin 
Made in the USA at our factory in Tucson Arizona !
! Use drop down menu to choose item !
1, 2, 3 go are specially formulated out of soft gel (candy jelly formula) to provide you with a easy fast application and lightweight full set of nails. Use our base coat gel or candy jelly, souffle or clear happy gel to make sure you get 4+ weeks of strong wear on the natural nail and make removal simple and easy!
* for the most fast, easy and long lasting application use Enailcouture.com press on gel in clear or pink, it has the prefect consistency and strength you need for a lasting application!~ 21+ days of perfect nails
Since all products are semi hard gels,  this allows for them to be soaked off within 15-20 minutes. For short term use, 1,2,3 go tips can be applied with our glue for a temporary set of full cover nails.  For removal we recommend our remover magic or soaking in pure acetone.
Application is fast, simple, and easy!
Prep the natural nail like you would for any full set
Apply one coat of prep and one of primer.
Apply one coat of press on gel  to the nail and cure.
Apply gel of your choice(pink press on gel or DIy gel) to the inside of the nail, rock it on ensuring there are no air bubbles or gel running out to the side wall or free edge.
Use the Flashy to freeze the nail in place for 10 seconds at least before going on to the next nail.
Once a full hand is applied you can fully cure for 60-90 seconds.
Now you're done all you have to do is customize them and have fun ! You can cut them down to the size you like and shape you need, your in control!
123go nails(unless noted please see below)  come in 11 sizes and 25 tips per size (275 nails total)
No refill sizes are available to purchase only sets.
Tip box not included, purchase separate
Black French styles 15 tips per size per bag
 New XXL lengths are now available.
The famous 123 go full cover soft gel nails now come in longer lengths and wider sizes. XXL coffin is a beautiful long tapered coffin shaped nail with beautiful c curves. XXL pipe is a lovely long oval shaped nail that is easy to customize and looks elegant and classy. XXL stiletto is the perfect stiletto shape and length you can keep it soft like a almost or make it sharp and extreme stiletto!
*our Sculpture series is considered a universal fit, it caters to those with a more curved nail bed and a more pronounced C curve!
We took it up a notch and made extreme shapes! extreme tapered coffin and extreme tapered stiletto are longer then xxl shapes and have a higher apex/arch and deep C curves with sharp lines. 50% c curve.
Our 5XL series have a dramatic arch, high apex, 60 % c curve and straight side walls! 
No other nails can come close! 

(DO NOT ACCEPT IMITATIONS, WE ARE THE ONLY ONES IN THE WORLD WITH XXL LENGTH FULL COVER SOFT GEL NAILS, WE OWN THE MOLD AND MANUFACTURE IN THE USA )
While we work to ensure that product information is correct, on occasion colors and shapes can look different due to lighting and monitors and devices display. Actual product packaging and materials may than that shown on our Web site. We recommend that you do not solely rely on the information presented. Content on this site is for reference purposes. Enailcouture.com  assumes no liability for inaccuracies or misstatements about products. all sale final, no refunds, no returns or exchanges. All smile line work is done by hand to keep the nails artisanal, any variation in the nails should be taken as a uniqueness and not a defect!~